INTRODUCTION
1. Data: 350.000 Collocations (Same with English-Vietnamese-English, version mtdEVA2009 for PC)
2. How to use:
- Normal searching with mobile keyboard.
- Cross-references: allows you to research any word appearing in the Definitions windows.
- Click on the word to see its meanings immediately.
- Finding meaning of the word in the same sentense.
3. Sound:
- Hearing the word and paragraph pronounced in the Definitions windows.
4. Function Word of Day: This function user learning new vocabulary everyday. This windows will start with random vocabularies when mtd application opened. The number of vocabulary increases each day and depend on user choosing.
5. Word card quiz: You can save the word to Word card list while searching word meaning or in use at Word of Day. When you want to learn that word again just go to Word card quiz.
6. Nice interface, easy, can change interface and language.
7. Auto save all words that have searched in History.
8. Price: 100,000VND
Link to watch more feature of product: http://www.youtube.com/watch?v=zysNqPT5oI0
Comment
chào bạn hongson197b! Sản phẩm này rất phức tạp để tự download và cài đặt, do đó LV khuyên khách hàng tới đại lý bán điện thoại di động như VienthongA, thegioididong để cài đặt và mua. Trân trọng!
Sản phẩm này rất hữu dụng cho tôi,xin cảm ơn LV
lam sao de download ve , download ve roi moi dang ky key dung khong ?
xem trailer giới thiệu tính năng từ điển cho mobile phone tại: http://www.youtube.com/watch?v=zysNqPT5oI0
Please log in to write comments.
How to Install

Stage 1:
- Run Application Deployment by following the link: Start/All Program/Windows Phone Developer Tools/Application Deployment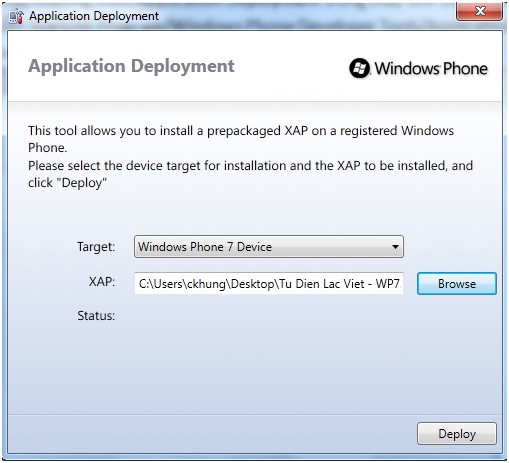 - Target: Choose Windows Phone 7 Device
- XAP: add file "Tu Dien Lac Viet – WD7.XAP"

- Then press Deploy and wait for the Status: XAP DEPLOYMENT COMPLETE. Done, check on your phone.
Notice: If you can"t find file named Windows Phone Developer Tools in "Program" you have to install Windows Phone Developer Tools.
First install file iso at here: http://download.microsoft.com/downlo...DT_RTM_en1.iso
Attract file .iso by:
- Find baseline.dat and open it using Notepad.
- Find the command gencomp7788 change the value =1 back =0 as below:
InstallOnLHS=0
InstallOnWinXP=0
Save file baseline.dat
Look for file setup.exe to install.
Stage 2:
Install file .XAP using application XAP Installer v1.2. Know more detail at here http://congngheso.vn/showthread.php/3836-XAP-Installer-v1-2-ho-tro-cai-dat-nhieu-XAP.
Copyright MAXXmarketing Webdesigner GmbH