INTRODUCTION
For Version Windows Mobile 5.x và Windows Mobile 6.x
1. Data: 350.000 Collocations (Same with English-Vietnamese-English, phiên bản mtdEVA2009)
2. How to use:
- Normal searching with mobile keyboard.
- Cross-references: allows you to research any word appearing in the Definitions windows.
- Click on the word to see its meanings immediately.
- Finding meaning of the word in the same sentense.
- Highlight the word and click on the symbol at the left coner of the screen its meaning will be appeared.
3. Sound:
- Hearing the word and paragraph pronounced in the Definitions windows.
4. Function Word of Day: This function user learning new vocabulary everyday. This windows will start with random vocabularies when mtd application opened. The number of vocabulary increases each day and depend on user choosing.
5. Word card quiz: You can save the word to Word card list while searching word meaning or in use at Word of Day. When you want to learn that word again just go to Word card quiz.
6. Nice interface, easy, can change interface and language.
7. Pocket PCs can install mtd
Samsung : Omnia
HTC: HTC Touch, Touch Pro, Touch Diamond,Touch HD,...
Dopod: Dopod M700, Dopod 818 Pro, Dopod M700i,..
HPiPaq: All most
O2XDA: Xda Orbit, Xda Orbit 2, Xda Stellar, Xda Exec, Xda Mini S, Xda Atom, Xda Stealth, Xda Flame, XdaAtom Life,...
Link to watch more feature of product: http://www.youtube.com/watch?v=zysNqPT5oI0
Comment
xem trailer giới thiệu tính năng từ điển cho mobile phone tại: http://www.youtube.com/watch?v=zysNqPT5oI0
Please log in to write comments.
INSTALLATION

File named is .cab
There are 2 ways to get this file
1 - Run file Exploder: First you have to paste that file to your mobile phone and then run File Exploder to set up.
2 - Another way: If you install file .cab directly from your Smartphone it will make your phone run slower. Therefore you can use the application named WinCE Cab Installer.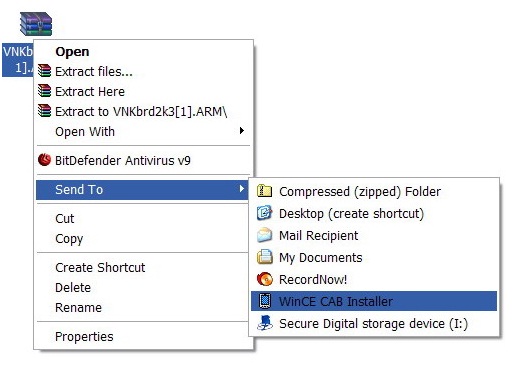 Copyright MAXXmarketing Webdesigner GmbH