INTRODUCTION
Dictionary: 5 dictionaries

English - Vietnamese
Vietnamese - English
Vietnamese - Chinese
Chinese - Vietnamese
Vietnamese dictionary
Common feature
Translation:
- Normal translation with mobile keyboard.
- Cross-references: just one Click and you can see the meaning of the words in the Definition windows (English and Vietnamese), automatically recognizing the compound words.
- Double click on the word you want to find.
- Provide the related words or phrases.
Sound:
- Click on the sound icon to hear every words, phrases and sentences in dictionary.
Text translation:
- Translate a English text to Vietnamese if internet is connected…
Learn vocabulary:
- Add vocabularies to Favorite to learn those anytime you want to.
- Save automatically to History the words that have searched before.
- Autolook tool help you to look up a word.
Interface: Easy to use
Auto update new version
Specific features of Dictionary

English - Vietnamese Talk

- Improve your Speaking skill by learning with 171 Talks.
- Various topics: habit, travel, food, daily talk, animal…
- There is Chinese – Vietnamese Talk in this version.
- Click on the sound icon to hear words' pronounciation.
Playing and Learning

Game
- There is a free game named "Do chu" in this dictionary version. Purpose of this game is to help you improve your vocabuary by playing this with images and suggests.
- Fun game, suitable for any mobile screen size.
eBooks

"eBook" is the tool that reading Lacviet's eBooks.
Click on the "eBook" icon to install Lac Viet Reader (tool to read eBook developed by Lac Viet).
After install it completely you just click on the icon "eBook" to read them.
Comment
phần từ điển ttrung việt và việt trung hiển thị chưa chuẩn. Ví dụ: Trong phần việt trung: tra từ "khởi động" thì khi nhập từ lại hiện bảng chộn ở các từ "khôi" Trong phần trung việt: tra từ "我" thì hiển thị phần bảng chọn lại là "做" để từ được từ cần tra gặp khó khăn
Please log in to write comments.
Requirement:
- Android application versions 1.6 and latest.
- Memory: 70MB
Set up:
Extract file LVTD_TALK_EVC.zip, copy 2 files: Lac Viet and Sound data to your phone memory.
Step 1:
Run app File Manager (Example: Astro File Manager, OI File Manager,…). If the phone has already File Manager, Skip this step. Example: Install "Astro File Manager" (Notice: must internet connecting), go to Market, Click on "Find", enter "astro file manager", click on result, then press "Install", it will be installed.
Note: Don't need to install File Manager for Sony Ericsson mobile phone, use Application Installer.
Step 2: Install "Sound data". From File Manager open Sound data, and run file com.svox.langpack.installer_1.0.1.apk.
Step 3: Install mtdEVA10_Android
Install mtdEVA10_Android. From File Manager open folder lacviet, and run setup file LVTD_TALK_EVC.zip
Note: If you see notice "Install blocked" then go to "Setting" -> "Application" and active "Unknown Source".
HƯỚNG DẪN ĐĂNG KÝ LICENSE
Chọn 1 trong 2 cách để đăng ký license như hướng dẫn bên dưới:
Cách 1> Active Online: cách này cần có mạng, khi khách hàng mua sản phẩm và có product key. Thì mở ứng dụng nhập product key vào và active. (yêu cầu có kết nối mạng, như hình 1)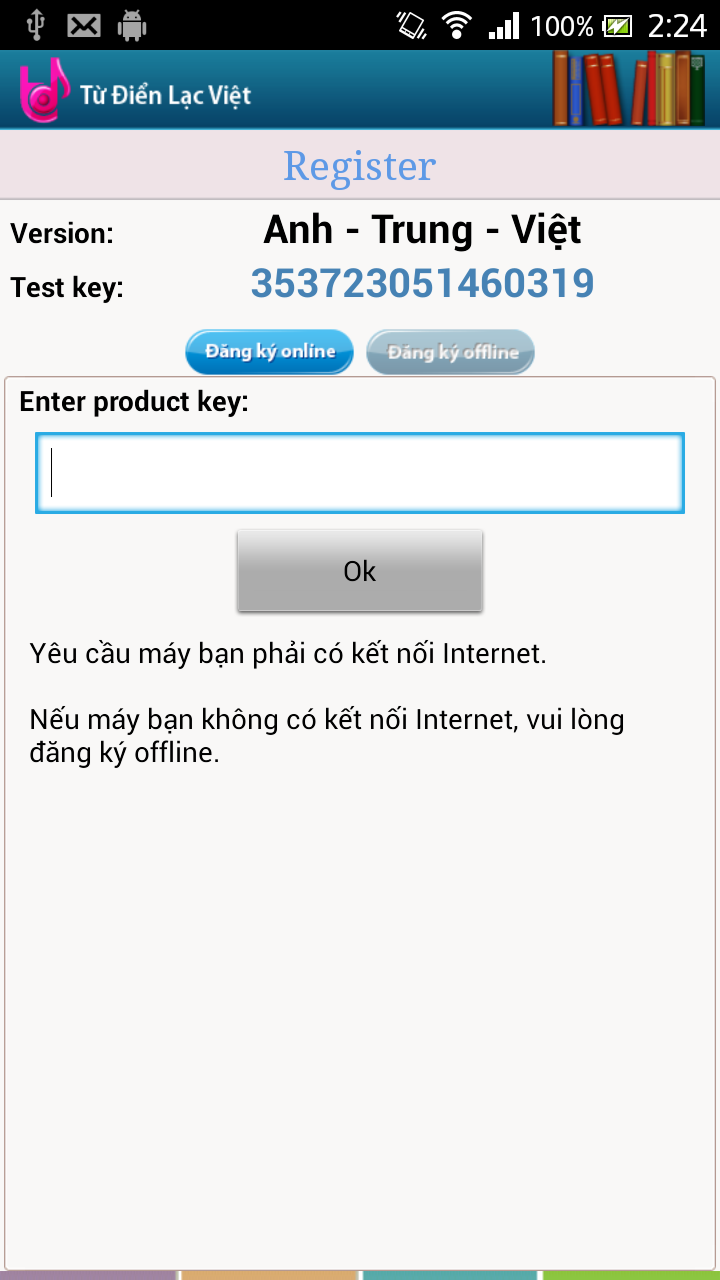 Hình 1
Cách 2> Active Offline: cách này dùng product key lên trang chủ để đăng ký license key. Sau khi có license key tương ứng với imei thì chuyển sang tab "Đăng ký offline", nhập license key và active. (dùng khi điện thoại không có mạng, như hình 2)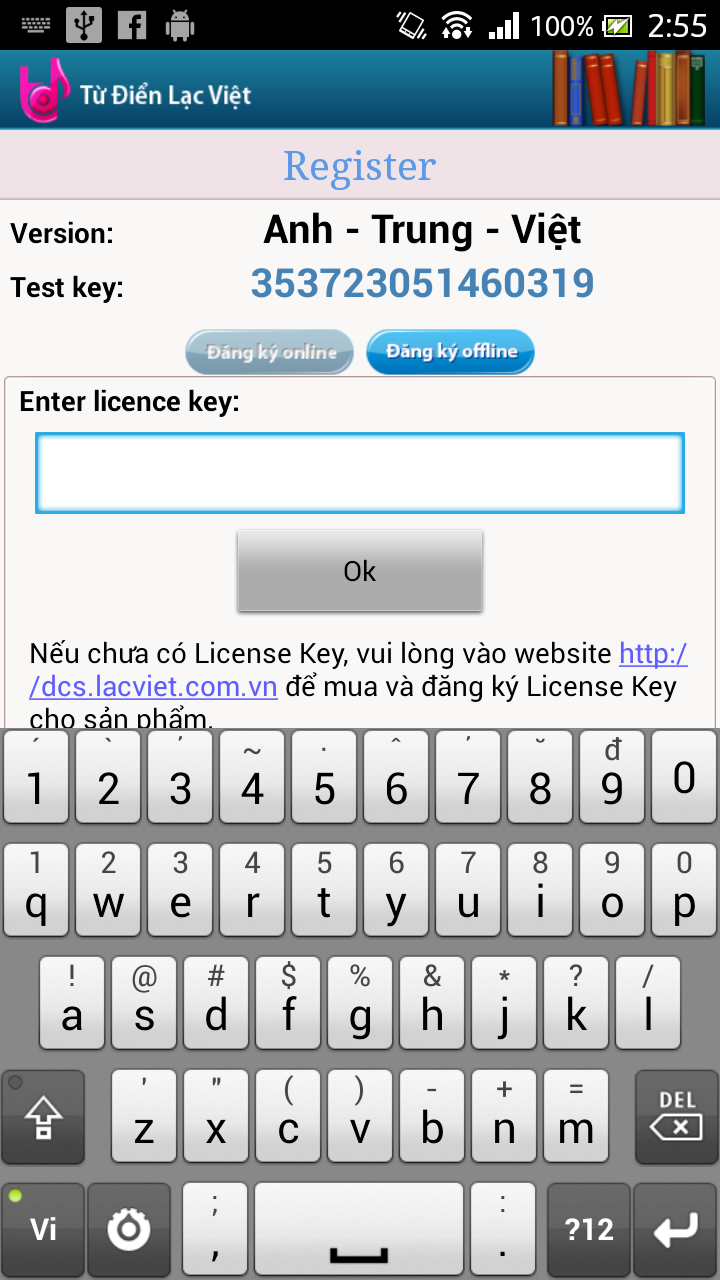 Hình 2
Copyright MAXXmarketing Webdesigner GmbH